Experience with Digital Learning Helped Piedmont Exceed Expectations Despite Covid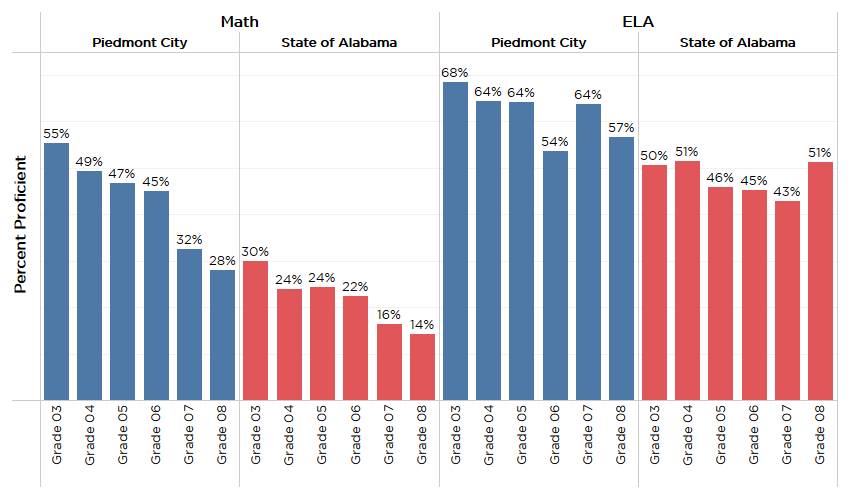 ---
Experience with Digital Learning Helped Piedmont Exceed Expectations Despite Covid
When the pandemic closed schools in March 2020, Piedmont City Schools didn't have to scramble to purchase laptops. The system didn't have to figure out how to get their students internet access. It didn't have to digitize its course materials.
Piedmont did those things a decade ago, gaining national recognition and
accolades
.
But Piedmont also knew, thanks to their digital experience, that teaching through technology takes preparation and practice and can lead to a declining performance if relied on too heavily.
And ultimately, Piedmont has learned the connection that matters most is not the internet connection; it's the connection between student and teacher and student and the school. As soon as they could safely reopen, they did.
"There is no substitute for face-to-face learning no matter how versed you are in delivering digital instruction," said Piedmont Superintendent Mike Hayes.
Results of Alabama's new standardized test, the Alabama Comprehensive Assessment Program (ACAP), provide evidence that Piedmont's experience and approach helped its students excel. Piedmont students outscored state averages in math and reading at every grade level.
Figure 1. Percentage of students proficient as measured by ACAP math and English language arts assessments, 2021, Grades 3-8, Piedmont vs. State of Alabama average
Piedmont's performance is even more impressive when the student body's level of economic disadvantage is considered. On average, students from economically disadvantaged households score lower on standardized tests than students from more affluent backgrounds. The percentage of Piedmont students qualifying for a free lunch under the National School Lunch Program is almost 10 percentage points higher than the state average.
Figure 2 compares two factors: the percentage of students proficient on the ACAP test and the percentage of students directly qualify for the school lunch program. School systems above the line of prediction in the graph are exceeding the level of performance expected based on their level of poverty. Piedmont's proficiency level far exceeds the performance of schools with similar demographics.
Figure 2. Percentage of Students Proficient on 2021 ACAP vs. Percentage of Students Economically Disadvantaged, by System
Across the country, there is a great deal of interest in the impact of educational changes made in emergency response to the pandemic, including the sudden switch to online instruction.
Preliminary data from across the country indicates that
student academic progress lagged significantly behind pre-pandemic norms
.
The sudden shift to digital instruction and remote learning will be examined as one of the factors contributing to that missed learning. At the same time, though, it's clear that aspects of virtual learning will endure, making it all the more important to understand digital instruction's strengths and weaknesses.
So, what does Piedmont's experience teach about the promise and pitfalls of digital education?
Continue reading PARCA's full analysis by clicking the link below.